Furniture Design Mallorca
We can say without a doubt that furniture is the essence of any space. In this regard, it's important to note that furniture provides personality and creates an identity tailored to anyone's needs.
From this perspective at Virginia Pérez Interior Design, we offer custom-designed furniture that ensures optimal results.
Of course, all our designs arise in line with the needs and tastes of our clients. We have experience in a wide range of furniture items such as lamps, headboards, or cushions, and for years, we have designed, among other things, Italian design furniture, luxury design furniture, and modern and elegant design furniture. One of our flagship services is the complete dining room package, where our portfolio ranges from Nordic design furniture to industrial-inspired furniture, through more original customized designs.
Remember that within the area related to furniture design, we also offer the creation and execution of rooms as essential in a home as the kitchen or bathroom. We have designed luxury bathroom furniture with and without sinks and collaborate with high-quality material suppliers on the island.
If you want to bring your home to life, don't hesitate to contact Virginia Pérez Interior Design, and we will provide a solution tailored to your needs.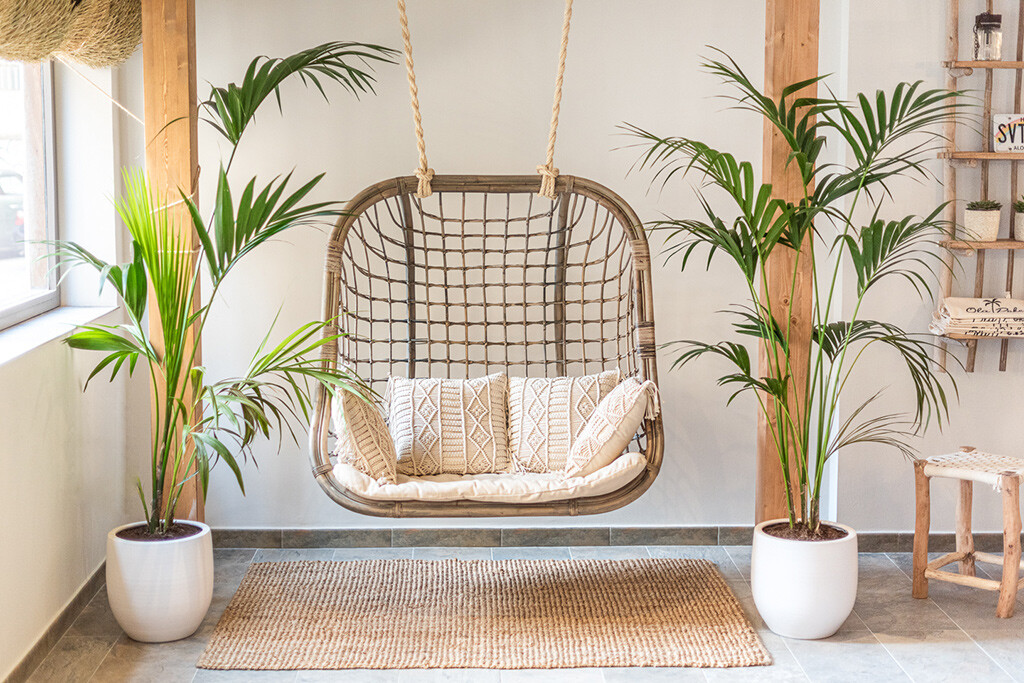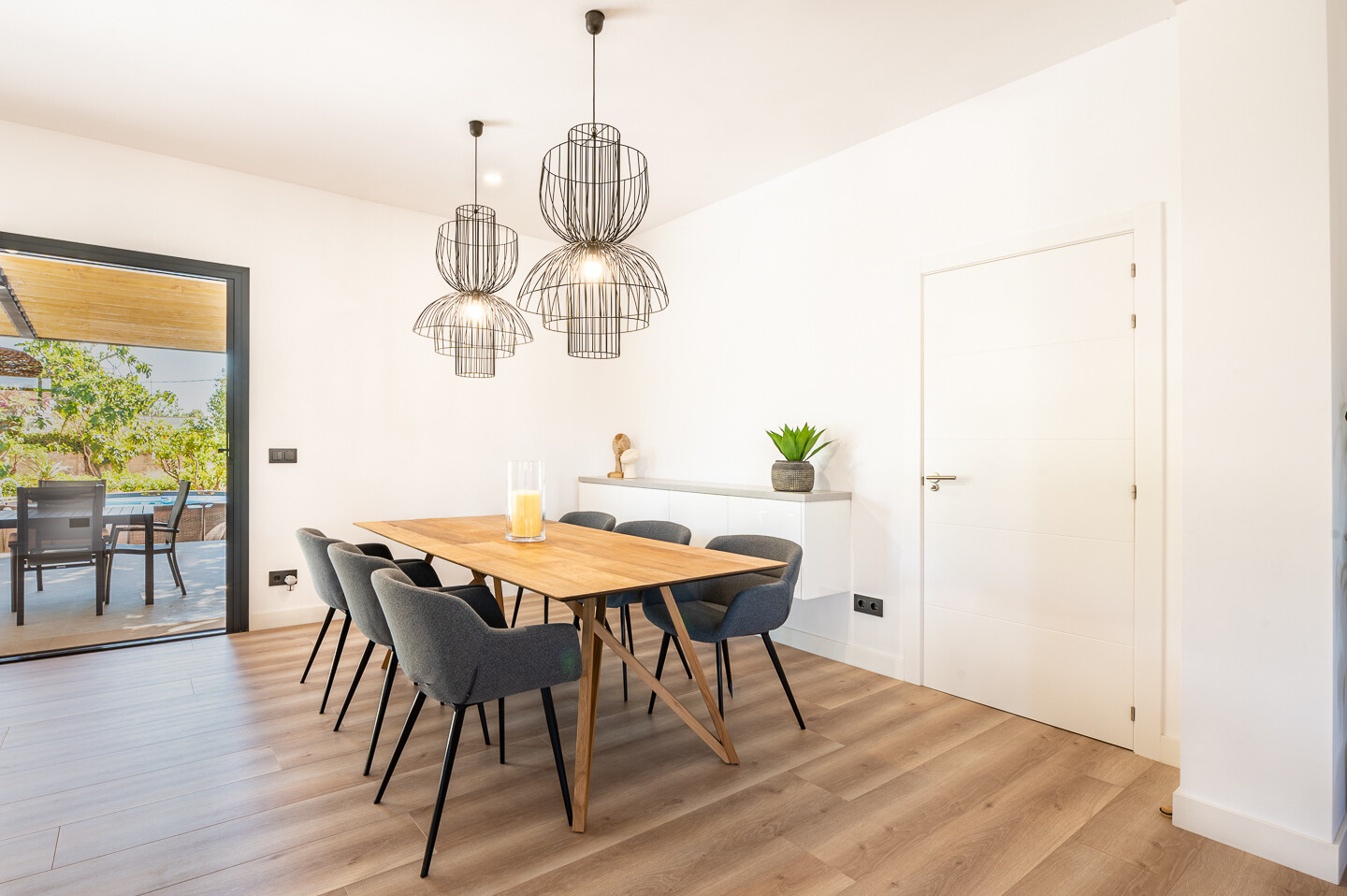 To understand why furniture design has become one of the most demanded services today, it is essential to list the broad advantages and benefits that this specialty offers, right?
Firstly, it's vital to highlight the numerous possibilities we have when choosing designer furniture, meaning it will be effortless to find that option that best suits our needs.
This furniture type offers all kinds of customized options, meaning we can choose the dimensions, color, or materials of the furniture, allowing us to personalize our home in great detail. From wooden furniture design to more minimalist metallic finishes, the range of options is vast, and there's something perfect for what you're looking for, and at Virginia Pérez, we'll help you find and bring it to life.
If you're still not convinced of the advantages that furniture design offers, it's essential to stress that it's an exclusive and original option, something you won't find with mass-produced furniture. There are no two identical people, so why would you want something as personal as your home to replicate hundreds of other homes?
When opting for furniture design, it's highly recommended to have the help and advice of specialists in this field. At Virginia Pérez Interior Design, we have over 20 years of experience, making us one of the most advisable solutions available.
Will you call us, and we'll explain everything we can do for you? No strings attached!
There's a false belief that furniture design is only suitable for the living room. However, the truth is different because this type of furniture is perfect for any room in a home.
At Virginia Pérez Interior Design, we specialize in kitchen design, where we not only select the furniture that best fits the kitchen's characteristics but also aim for a result that makes your kitchen comfortable, practical, and functional. The bathroom is another room that plays a significant role in a home.
Adapting this room to current needs involves essential changes where furniture plays an indispensable role in offering a space that combines aesthetics with comfort. We cannot forget the bedrooms as another space that's perfect for a furniture design project.
If you don't know how to decorate a modern and elegant living room or how to create a dream room, trust Virginia Pérez Interior Design. We will guide you through this transformation process as we have for two decades with all types of clients. Furniture design adapts to any room in a home, so we are at your complete disposal to know more about your project, tell us more.
One of the reasons we come highly recommended is due to our over 20 years of experience in the interior design sector. Furthermore, we continue to train with the aim of applying the latest industry trends.
However, the primary reason why more and more clients trust our services is due to our professional, close, and personalized treatment. We make it a priority to understand our clients' needs, which is key to creating unique, original spaces tailored to the client's requirements.
In conclusion, furniture design is a recommended option for both businesses and private clients, offering a spectacular result that won't leave you indifferent. Creating a space tailored to you not only results in a significant aesthetic improvement but also brings substantial functional and practical benefits.
Interior Design Services in Mallorca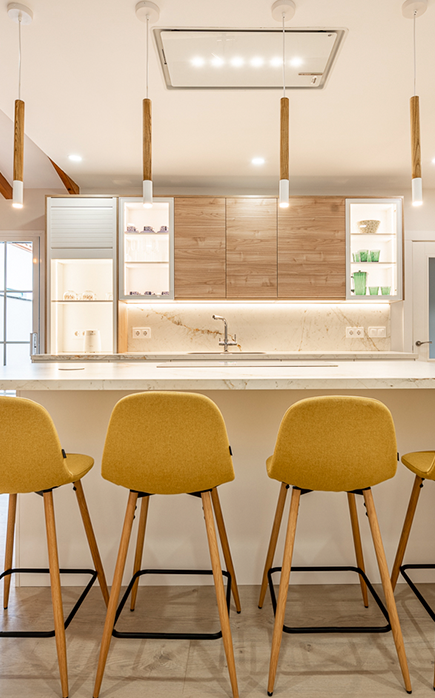 Kitchen design is my greatest passion within the interior design field.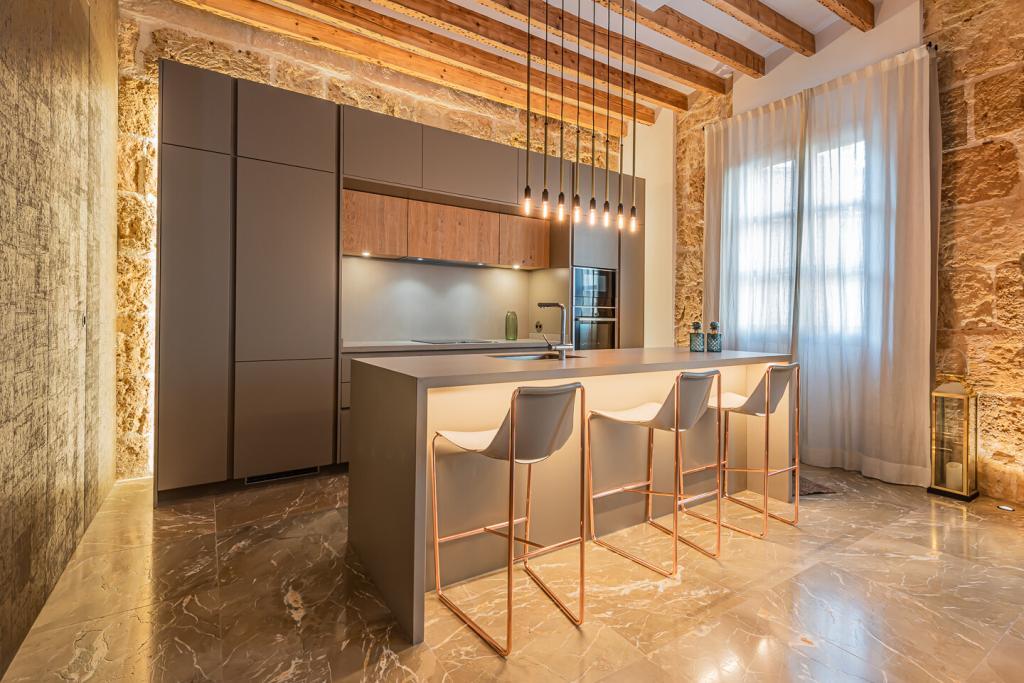 Furniture is the essence of any space. It brings its own personality to it and provides a
special identity.
If you have doubts about your project, I can help you. Not only the space but also where and
how.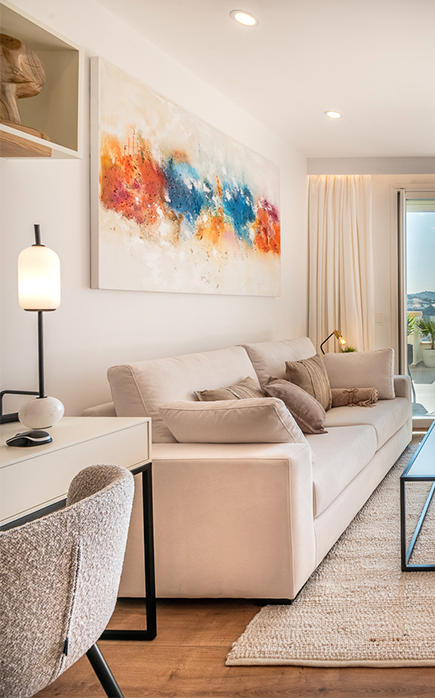 Interior design is the art of improving the interior of a space.
Latest content on interior design.