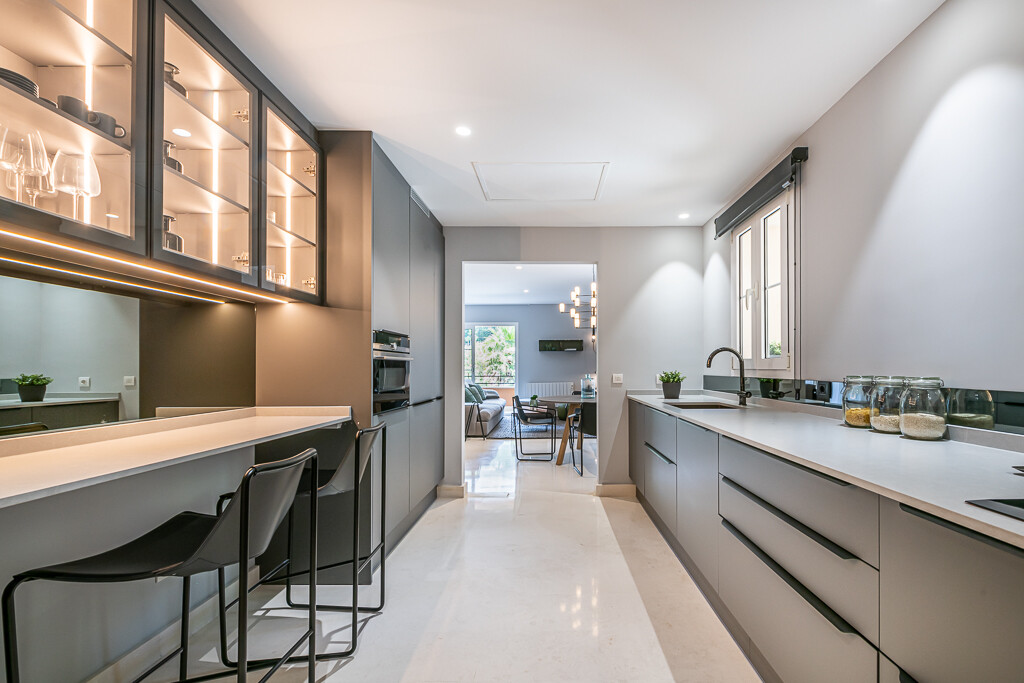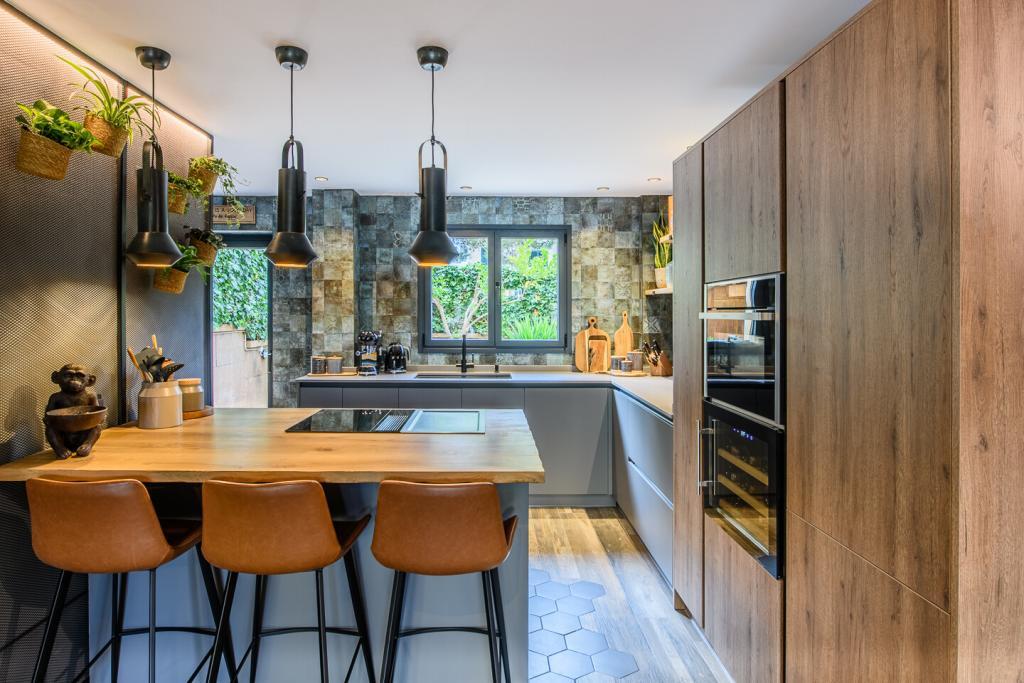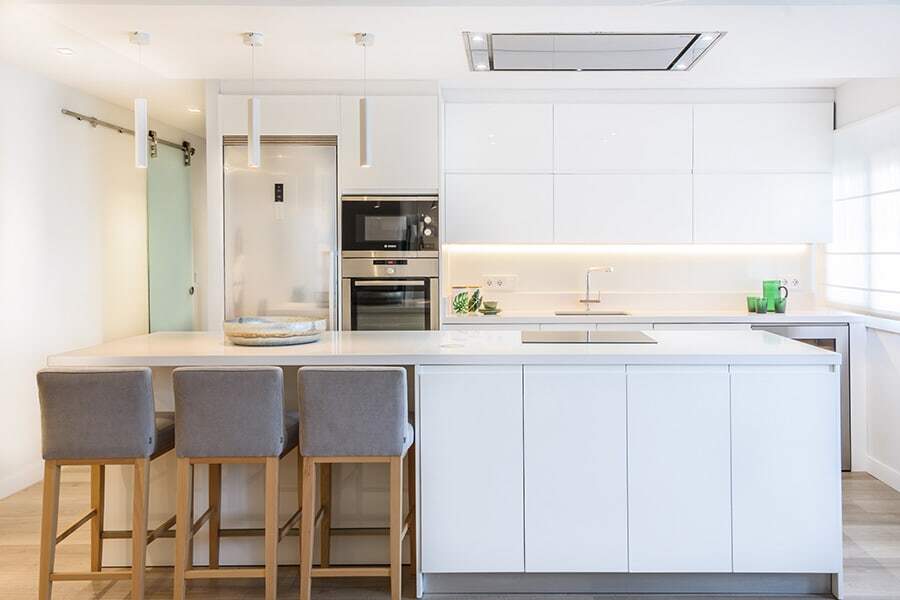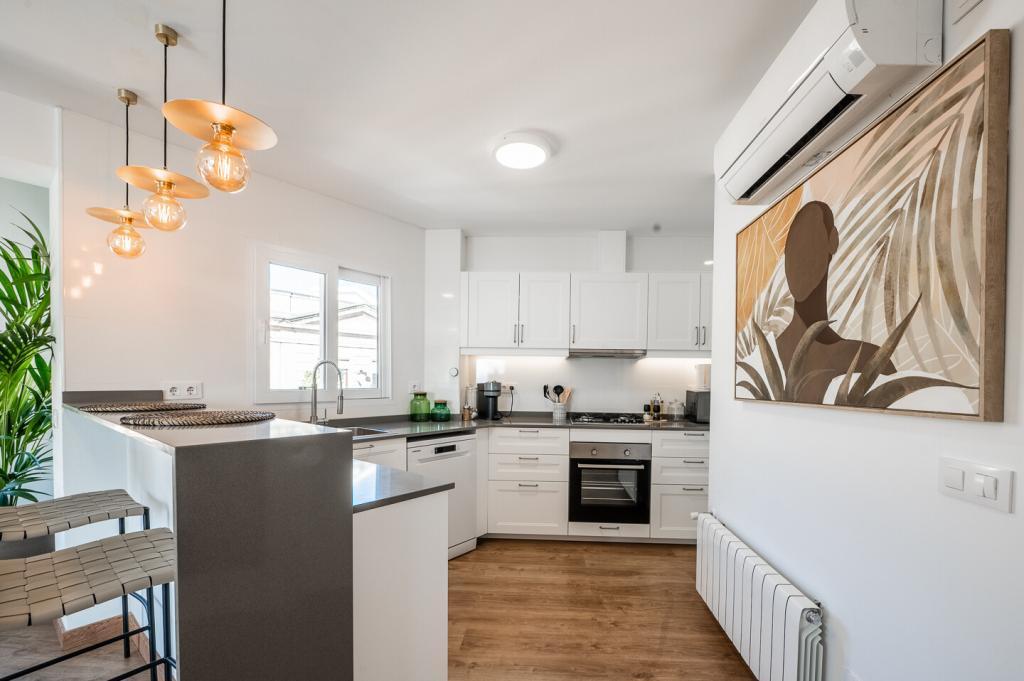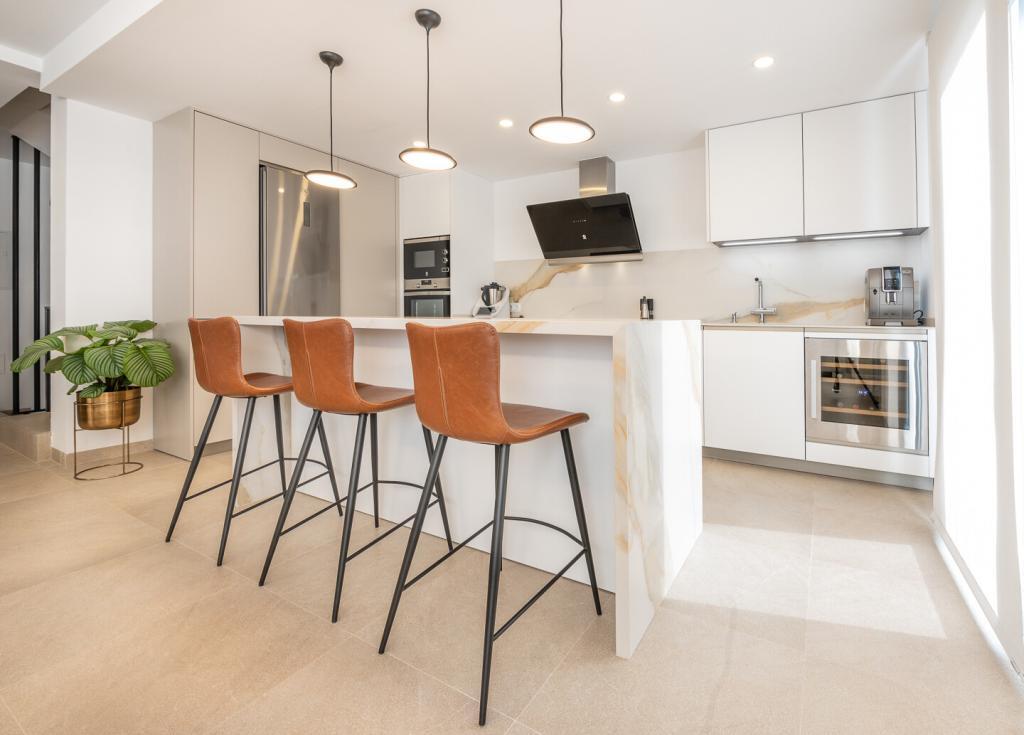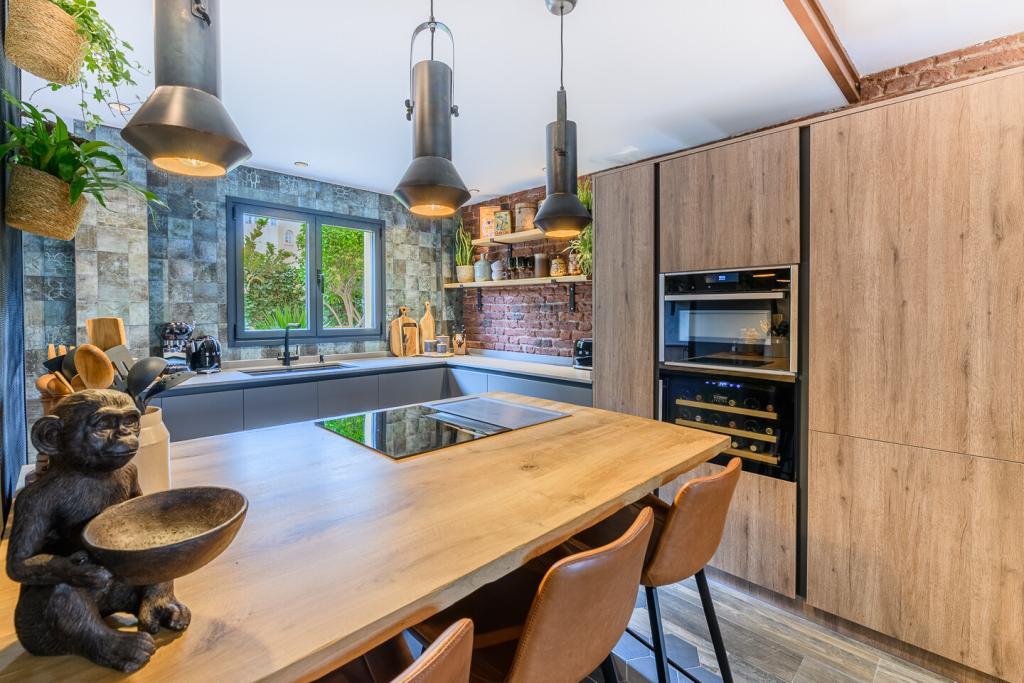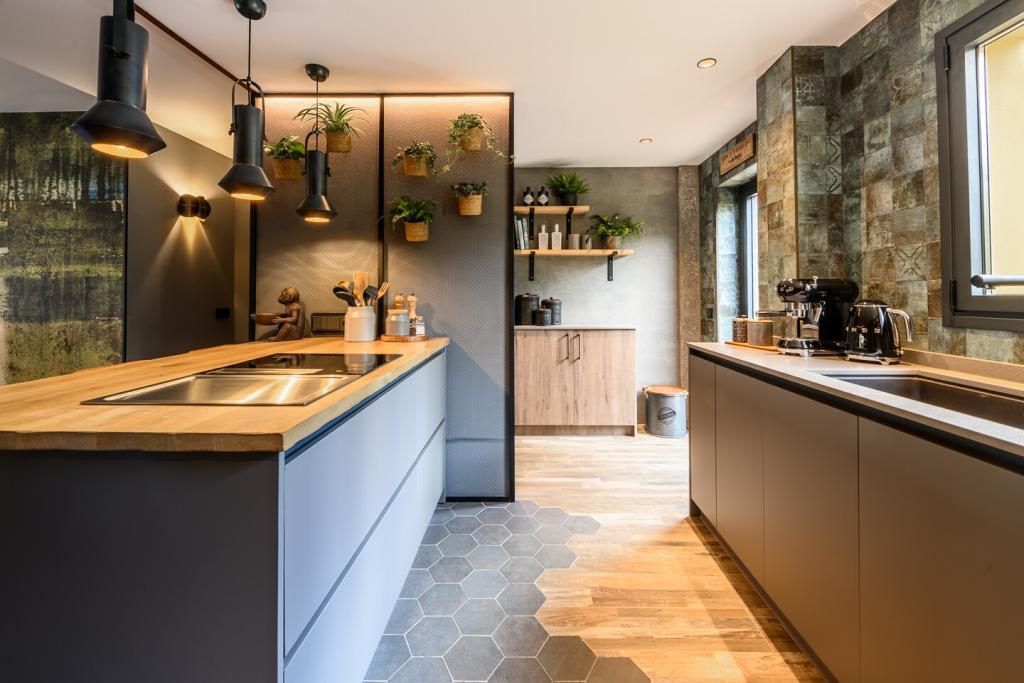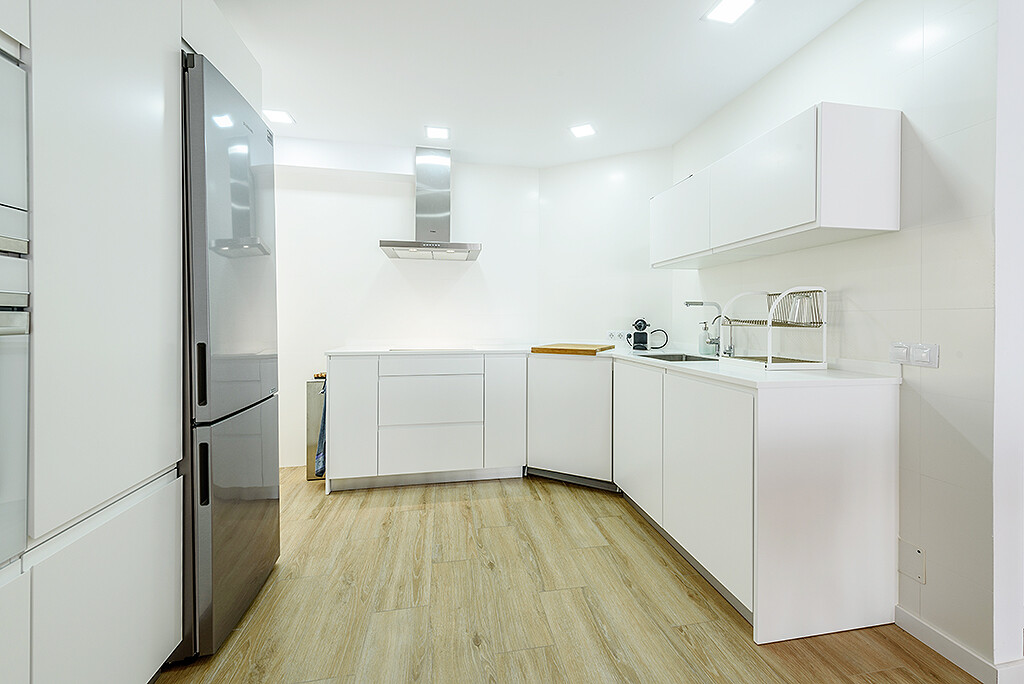 Kitchen Design in Palma de Mallorca
Both kitchen design and decoration are essential if your goal is to create harmony in your home. In fact, we can establish that a kitchen is the soul of a dwelling, being a space of union between family and friends, where countless pleasant experiences are enjoyed and shared.
At Virginia Pérez Interior Design, we will help you create the kitchen of your dreams. For this, we will not only advise you on choosing the furniture that best fits the specifics of your kitchen but also seek to enhance both its aesthetics and functionality and versatility—this essential space within your home.
We are backed by an experience of over 20 years in this sector, with a wide variety of kitchen interior design projects.
Thus, we have served numerous clients and have offered a wide variety of styles, materials, and layouts with the sole aim of adapting to our clients' needs.
Kitchen Interior Design
To achieve an ideal result, we take charge of deeply analyzing the space available in the kitchen and its use, giving us a lot of information that will help present various proposals that fit both the needs and style of our clients.
Refurbishing the kitchen has become one of the most demanded alternatives today. The primary reason we opt for this change is to seek an improvement in both the aesthetics and functionality of this space.
Next, we will explain a series of aspects essential when designing a kitchen. Remember that at Virginia Pérez Interior Design, we will accompany you throughout the entire kitchen design process.
Importance of functionality in your kitchen
One must not forget that the kitchen serves an essential function in our daily lives. For this reason, it's vital to create a design that allows us to cook effectively. For this, we need to consider the functionality of the space so that the movements we make in the room are natural.
At Virginia Pérez Interior Design, we are fully aware of the importance of functionality in a kitchen. Hence, we consider the location of the furniture, countertops, sink, and other appliances to offer you maximum comfort.
Improving the kitchen's energy efficiency
Another goal offered by kitchen design is to seek energy savings. It's essential to note that by applying some basic principles, we can achieve significant savings in the energy bill and also increase safety at home.
Improving energy efficiency is not only an attractive way to save money but also helps contribute to the environment, making it another reason to consider this aspect when designing a kitchen.
Importance of lighting and ventilation
Optimizing light in the kitchen is essential, and nowadays, you have the option to choose from a wide variety of lighting systems to settle on the one that best fits your kitchen.
In addition, we must not forget to mention ventilation as another of the essential aspects, as it will help avoid all kinds of unpleasant odors during cooking
At Virginia Pérez Interior Design, we have a multifunctional professional team specializing in kitchen interior design. Also, we offer you our experience and professionalism when decorating any room in your home or business.
One of the keys to our success is that we offer close and professional treatment to each of our clients. For this, we strive to understand their needs and, based on that, propose a tailored solution. Only in this way can we achieve a unique and original project.
If you are interested in our service, do not hesitate to contact us, and we will attend to you personally. We will be delighted to help you design the kitchen of your dreams, a space that will become the ideal place in your home.
Why wait to contact us?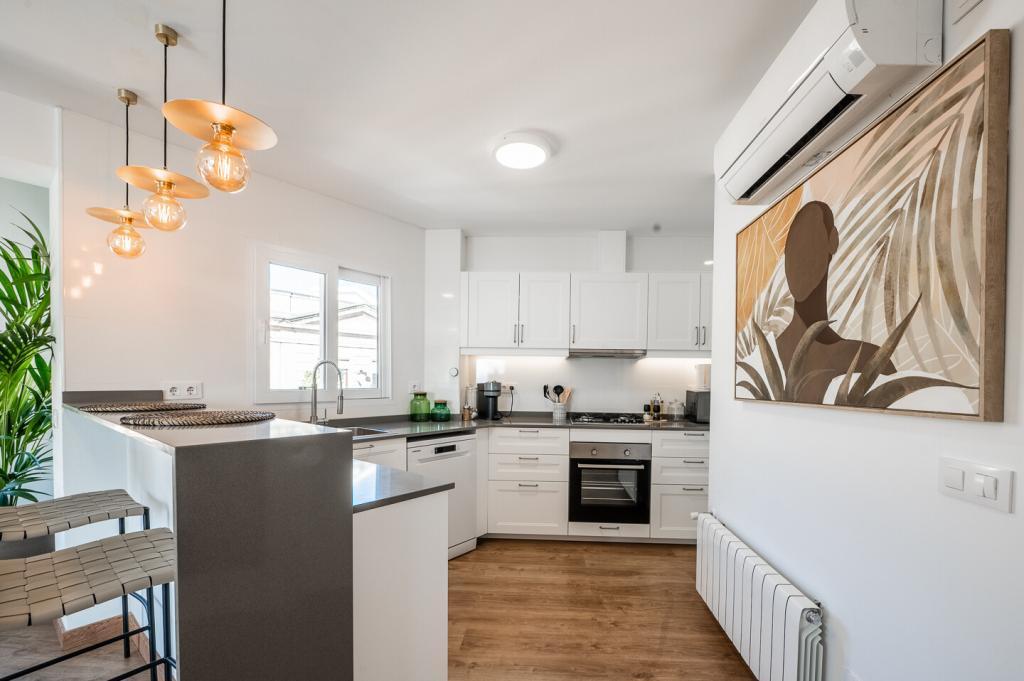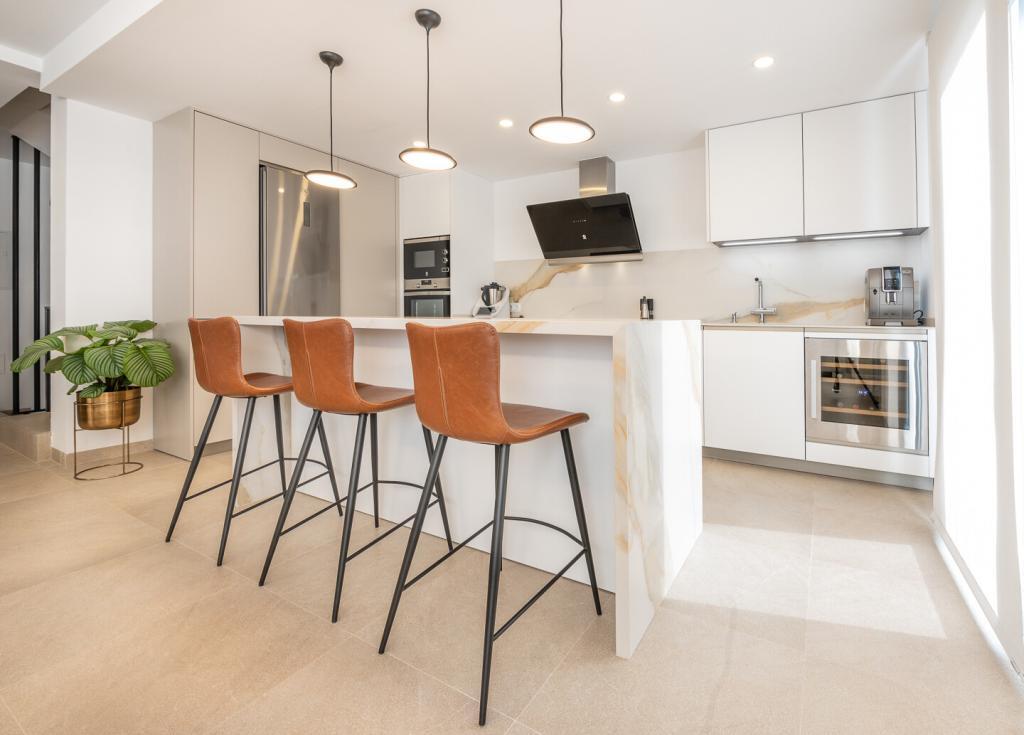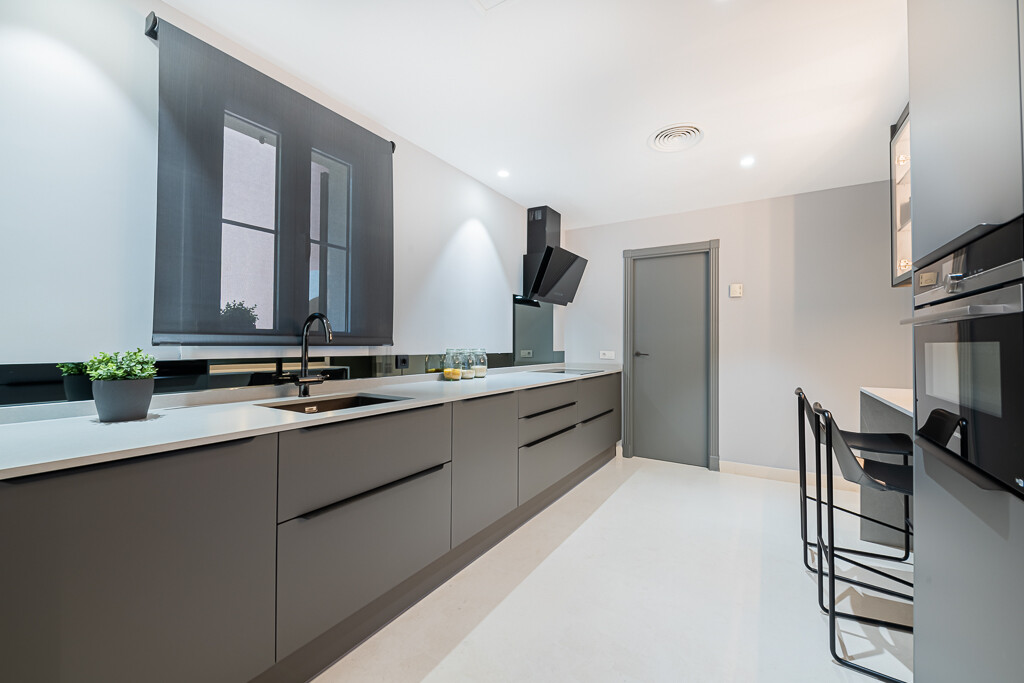 Kitchen design has evolved significantly in recent years, with trends ranging from minimalist to the most sophisticated. The minimalist design is characterized by clean lines, neutral colors, and few ornaments. These kitchens are known for their simplicity and elegance, perfect for those seeking a relaxed and tranquil environment focusing on harmony.
Another popular trend is kitchen design with an island. These kitchens feature a central island that can be used as a workspace or a place to sit and have breakfast. Sometimes, kitchen designs also incorporate a sink island. The island adds a modern touch and expands the functionality of the existing space even further. Often, kitchens with islands are also open kitchens, further expanding the space. These kitchens connect directly to the dining room or living room, allowing more interaction between people while cooking.
Furthermore, the integration of appliances into kitchen design is increasingly common. Stainless steel appliances are an excellent option as they are easy to clean and provide a sober and timeless appearance. The integrated extractor hood is another feature that is becoming increasingly common as it helps keep the area free from smoke and odors, especially relevant in an open kitchen.
Regarding countertops, marble, granite, and quartz are popular materials due to their durability and natural beauty. They also offer a wide range of color and pattern options, allowing each kitchen to be unique and personalized while preserving its functionality.
In summary, kitchen design has evolved significantly in recent years, with trends ranging from minimalist to the most sophisticated. Minimalist kitchen designs, with islands, open designs, integrated countertops made of marble, granite, quartz, and stainless steel appliances are some of the current trends. The integrated extractor hood is also an increasingly popular feature in modern kitchen designs.
If you're looking for a modern and functional kitchen for your home in Mallorca, a kitchen with an island might be the perfect solution for you. The kitchen design with an island has gained popularity in recent years, thanks to its contemporary style and its ability to create a centralized space in the kitchen for cooking, eating, and socializing.
In a kitchen with an island, the central island becomes the room's focal point. This island can be used for various tasks, from food preparation to storing kitchen utensils. It can also be an excellent option for adding extra seating.
In terms of design, a modern kitchen with an island should be minimalist and elegant. Materials like stainless steel, wood, and glass are popular choices for appliances, furniture, and surface finishes. Cabinets can be neutral colors like white or black or even a bolder color like navy blue or dark green. Surface finishes, like quartz or granite countertops, can bring a touch of luxury and elegance to the kitchen.
Ensure you choose a design that's functional and aesthetic and suits your home's needs and lifestyle. At Virginia Pérez, we help you bring your dream kitchen to life. With over 20 years of experience in kitchen design, we can advise you to get unparalleled results.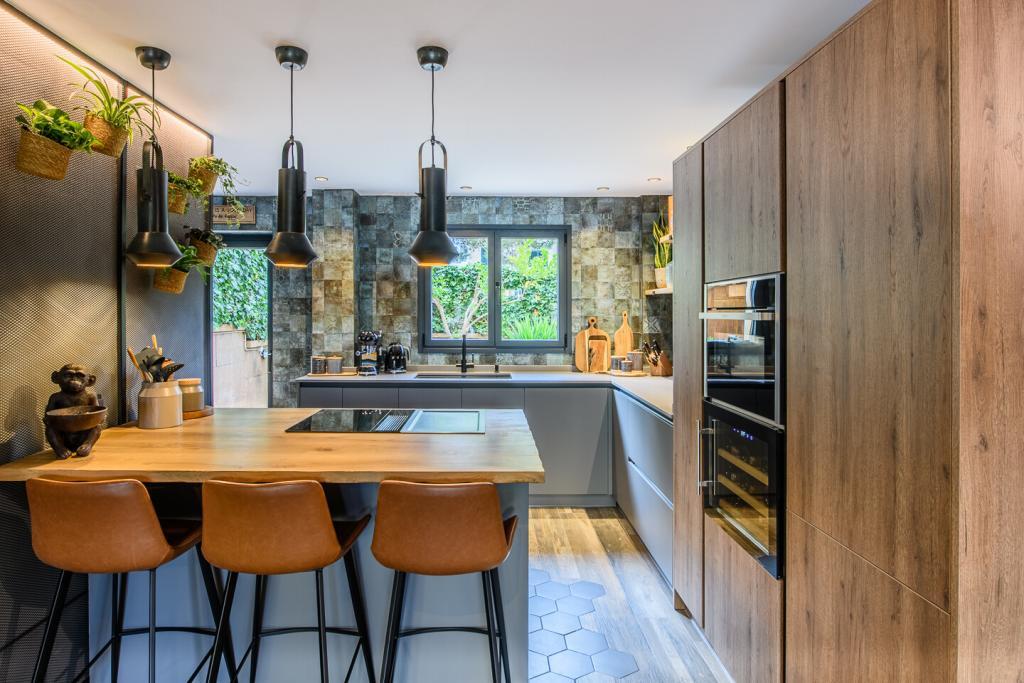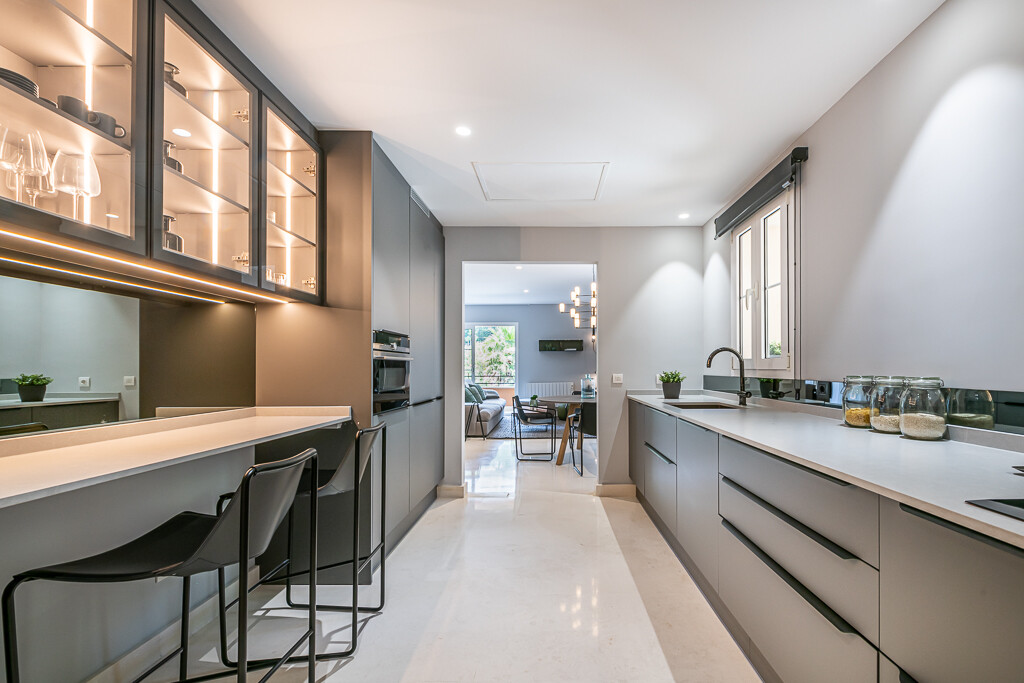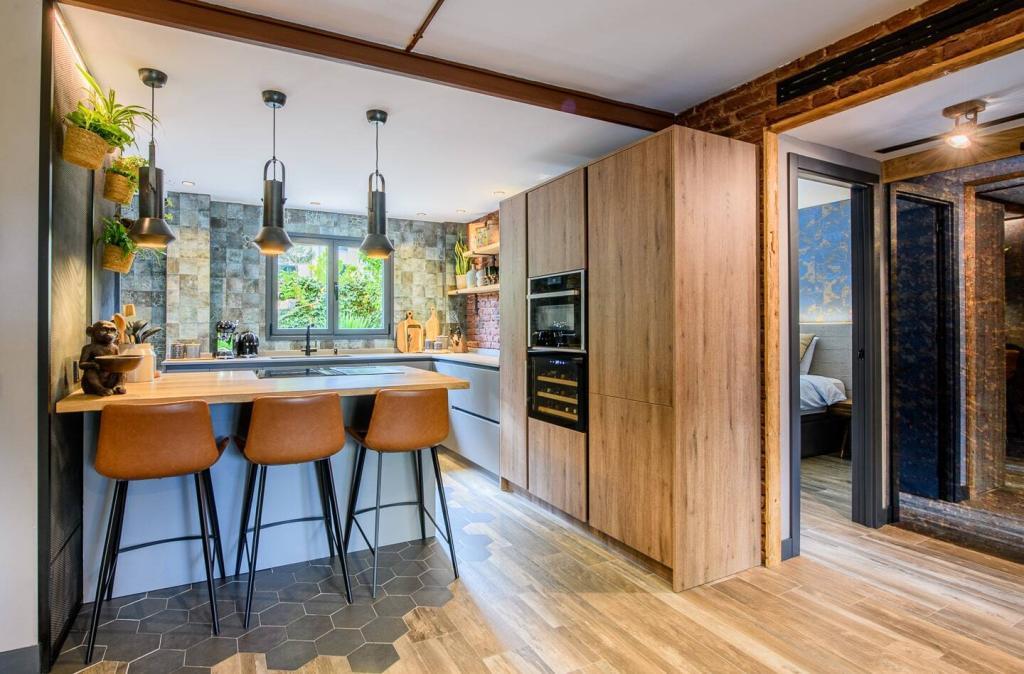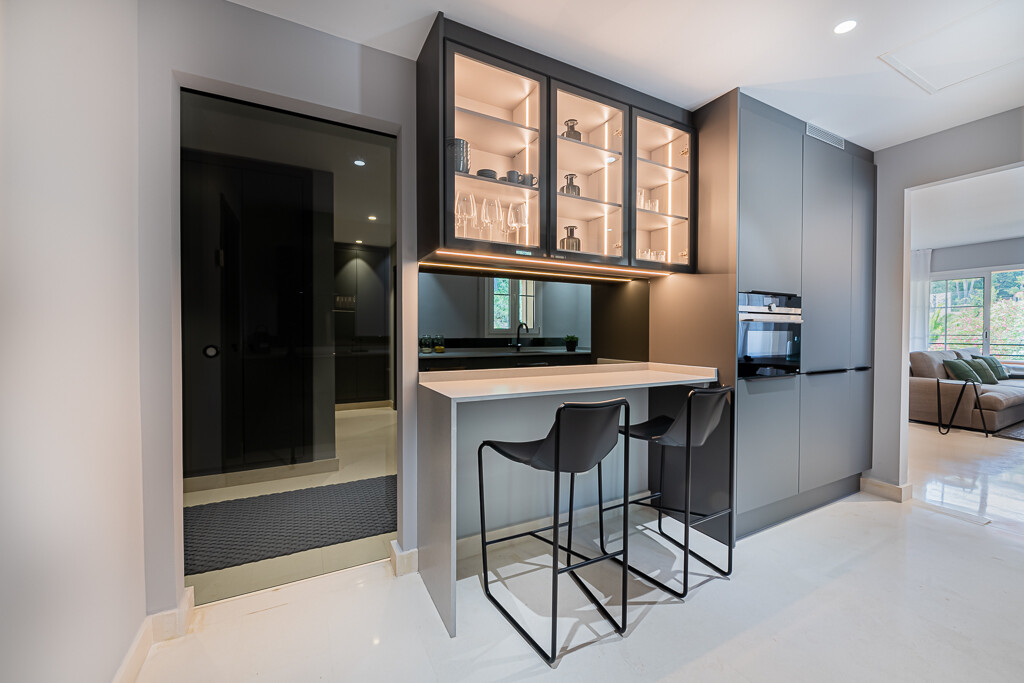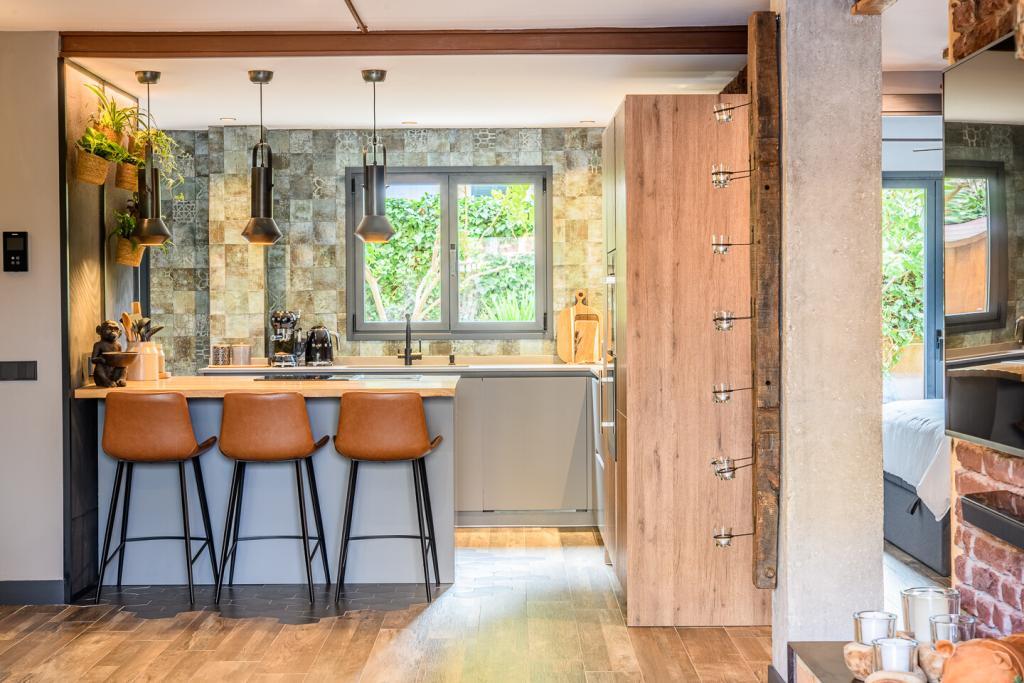 Small kitchen interior design is a challenge, but it's also an opportunity to be creative and make the most of the available space.
A popular way to design small kitchens is in an L or U shape. These kitchens have an "L" or "U" configuration that maximizes workspace and storage while making the most of natural light. Another option is designing small kitchens in a hallway style, ideal for narrow and elongated spaces. These kitchens use space efficiently, allowing everything needed on a single workbench.
Small kitchens with islands are also trendy. If space allows, a central island can be used as a workspace or a place to sit and have breakfast, adding a modern and open touch to the room.
The breakfast bar is also another widely used option to maximize space in a small kitchen. A breakfast bar provides an additional place to sit and eat, plus it offers extra storage space functionality.
In conclusion, small kitchen design can be challenging, but it's also an opportunity to be creative and make the most of the available space. Modern designs, L-shaped, U-shaped, hallway, with islands, and breakfast bars are some of today's trends in small kitchen design. With some planning and creativity, a small-sized kitchen can be functional and harmonious.
Designing a modern small kitchen can be a challenge, but with a smart focus on design and functionality, it's possible to create an aesthetic and functional kitchen in any space.
One of the keys to designing a modern and small kitchen is maximizing the use of available space. Cabinets and storage shelves should be deep enough to contain kitchen essentials but without cluttering the space.
Another way to maximize space is to choose compact appliances. Built-in ovens and microwaves can also save valuable countertop space.
In terms of aesthetic design, a modern small kitchen should be minimalist and elegant. Light and neutral colors like white, gray, and beige can make the room appear larger and brighter. Glossy finishes, like stainless steel or glass, can add a modern and polished touch to the kitchen.
It's also essential to ensure the workspace is comfortable and functional. Consider adding an island or a folding table if space allows, to create a food preparation area and also have an area to eat.
At Virginia Pérez, we have dozens of small kitchen projects and know how to make the most of the room so that the kitchen is a place where you want to spend time and not run away from.
Kitchen Design and Other Services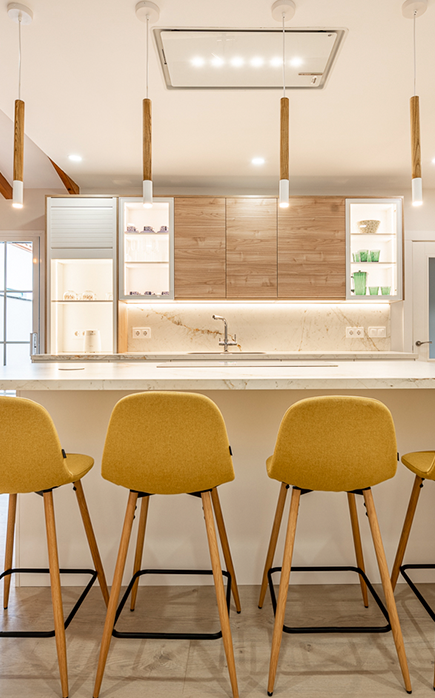 Kitchen design is my greatest passion within the interior design field.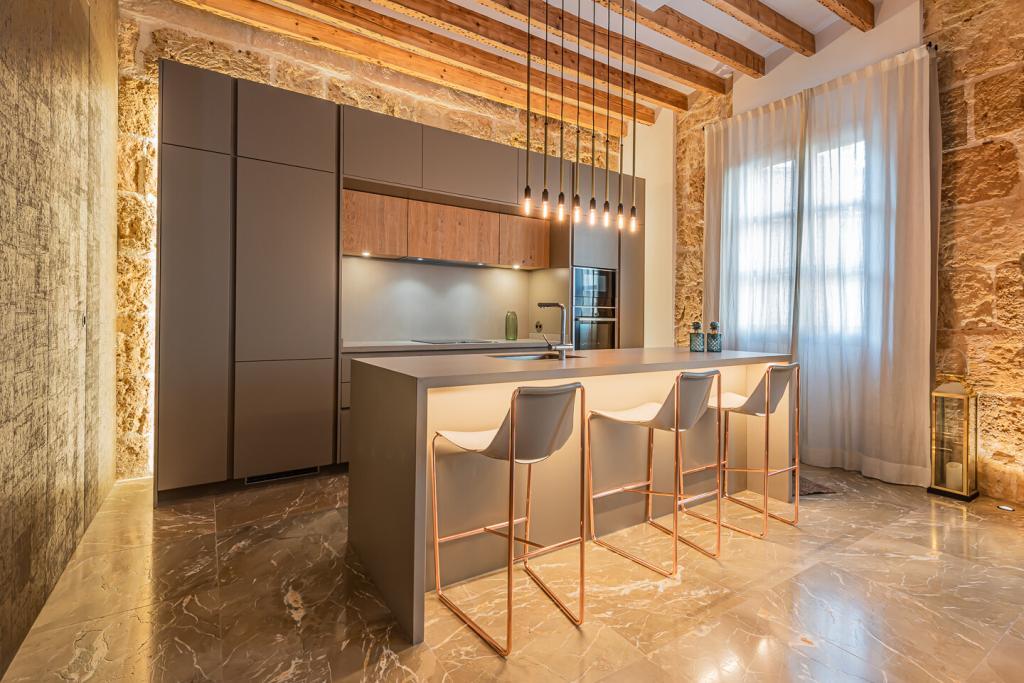 Furniture is the essence of any space. It brings its own personality to it and provides a
special identity.
If you have doubts about your project, I can help you. Not only the space but also where and
how.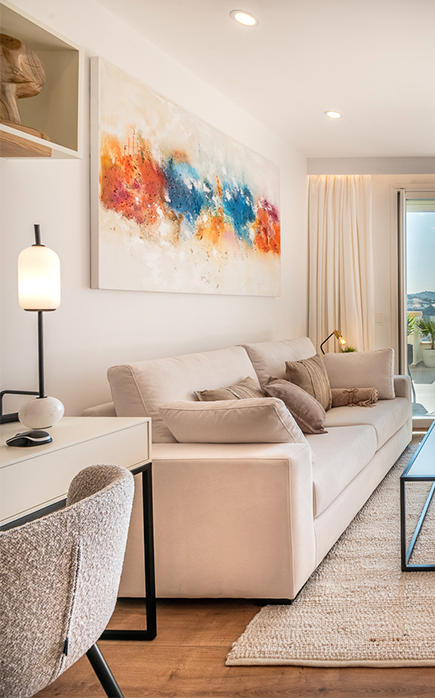 Interior design is the art of improving the interior of a space.
Latest content on interior design.